Jul 13, 2022, 15:53


Representing only a tiny fraction of what has actually happened.
he European Medicines Agency (EMA) database of adverse drug reactions is now reporting 46,160 deaths and 4,623,724 injuries following COVID-19 vaccines, while the United States' Vaccine Adverse Events Recording System (VAERS) is now reporting 29,162 deaths and 1,314,594 injuries following COVID-19 vaccines. (Source.)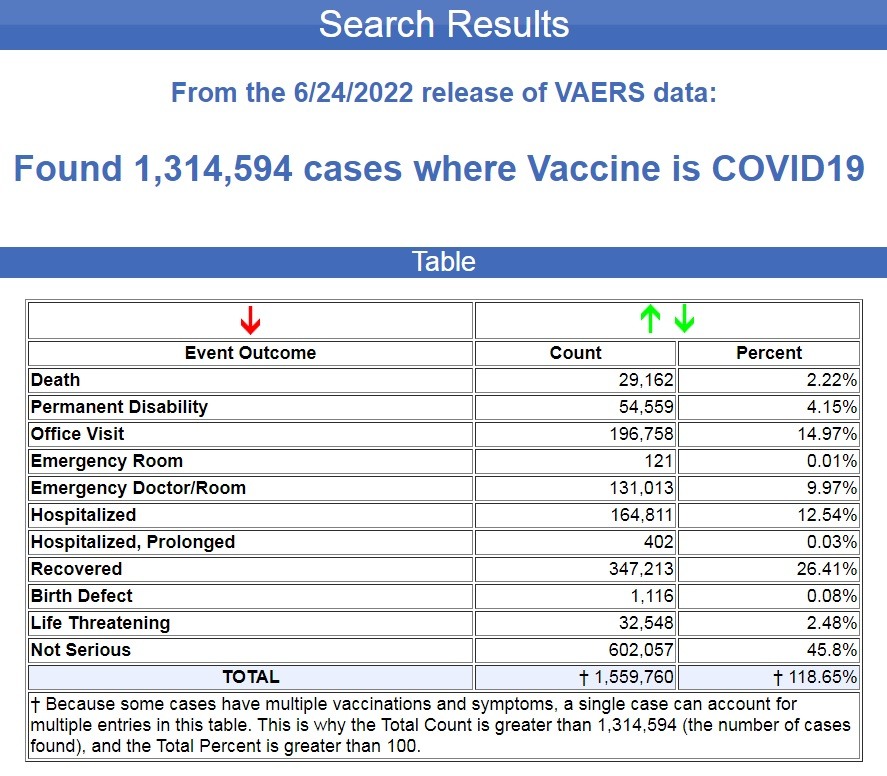 We know that as huge as these numbers are which are official government statistics, that they only represent a very small fraction of the total number of deaths and injuries suffered by those who chose to receive COVID-19 vaccines during the past 18 months.
Last year, Dr. Jessica Rose did a comprehensive analysis to determine the "under-reported factor" in VAERS, and came up with 41X, meaning that the recorded data for adverse reactions to COVID-19 vaccines in VAERS had to be multiplied by 41 to get more accurate numbers. See:
However, now that more time has elapsed since this study was performed, many feel that 41X is significantly too low, and should be closer to 100X, which is the number that was previously used based on a 2011 report by Harvard Pilgrim Health Care, Inc. for the U.S. Department of Health and Human Services (HHS).
Although 25% of ambulatory patients experience an adverse drug event, less than 0.3% of all adverse drug events and 1-13% of serious events are reported to the Food and Drug Administration (FDA).
Likewise, fewer than 1% of vaccine adverse events are reported. Low reporting rates preclude or slow the identification of "problem" drugs and vaccines that endanger public health. New surveillance methods for drug and vaccine adverse effects are needed. (Source.)
So if we take the publicly available data from VAERS and the European EMA and multiply by 100, these would be the true numbers of adverse events following COVID-19 vaccines: 7,532,200 deaths and 593,831,800 injuries in Europe and the U.S.
46,160 deaths and 4,623,724 injuries in EudraVigilance
The European (EEA and non-EEA countries) database of suspected drug reaction reports is EudraVigilance, verified by the European Medicines Agency (EMA), and they are now reporting 46,160 fatalities, and 4,623,724 injuries following injections of five experimental COVID-19 shots:
From the total of injuries recorded, almost half of them (2,106,816) are serious injuries.
"Seriousness provides information on the suspected undesirable effect; it can be classified as 'serious' if it corresponds to a medical occurrence that results in death, is life-threatening, requires inpatient hospitalisation, results in another medically important condition, or prolongation of existing hospitalisation, results in persistent or significant disability or incapacity, or is a congenital anomaly/birth defect."
A Health Impact News subscriber in Europe ran the reports for each of the four COVID-19 shots we are including here. It is a lot of work to tabulate each reaction with injuries and fatalities, since there is no place on the EudraVigilance system we have found that tabulates all the results.
Since we have started publishing this, others from Europe have also calculated the numbers and confirmed the totals.*
Here is the summary data through July 2, 2022.
Go to this link to see the data etc: