Feb 13, 2021, 15:15


Multiple calls for a criminal investigation into Governor Andrew Cuomo have arisen following a bombshell report in which one of his top aides admitted in a conference call to Democrat lawmakers that the administration hid information on COVID nursing home deaths from federal investigators.
In August, the Department of Justice announced that they had requested information from New York regarding pandemic-related orders that might have led to the deaths of thousands of seniors in nursing homes.
The New York Democrat consistently painted the investigation as politically motivated.
But a stunning confession from Melissa DeRosa, secretary to the governor, seems to indicate Cuomo's administration knew the feds were going to find questionable, if not criminal activity.
The New York Post first reported that DeRosa told leading Empire State Democrats that the administration feared the data could "be used against us" by the Justice Department.
After former President Trump directed "the Department of Justice to do an investigation into us," the Cuomo aide said, "basically, we froze."
"We were in a position where we weren't sure if what we were going to give to the Department of Justice, or what we give to you guys, what we start saying, was going to be used against us while we weren't sure if there was going to be an investigation," DeRosa said.
Background on the Scandal
Governor Andrew Cuomo's nursing home scandal, covered on these pages for months, began to finally unravel in the media two weeks ago.
The New York Times reported that attorney general Letitia James, a Democrat, accused Cuomo and his administration, particularly officials at the State Health Department, of undercounting COVID deaths at nursing homes by as much as 50%.
State officials had originally given a figure of about 8,677.
James' report meant that number is actually closer to over 13,000 people who died as a result of the pandemic infiltrating nursing homes.
WWNY News reports that number was actually well over 15,000 seniors who died in nursing homes due to Cuomo's executive order.
Governor Cuomo famously issued an executive order in March forcing nursing homes to take on patients that had tested positive for coronavirus.
The order prohibited facilities from requiring incoming patients "to be tested for COVID-19 prior to admission or readmission," and may have contributed to the well over 15,000 deaths in New York.
Cuomo refused to reverse the directive for over six weeks while senior citizens succumbed to the virus.
The governor himself denied he ever issued the executive order.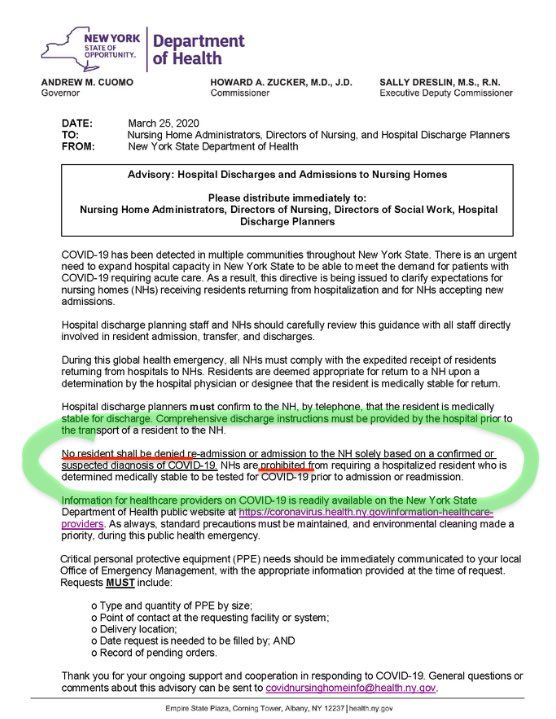 Complicating matters were obvious signs that the Cuomo administration was stonewalling actual data related to the nursing home deaths associated with COVID.

OAKS for the rest of this great article GO TO:
Genocidal maniac demonrat Governor Cuomo